2020 County Budget
This budget, as presented, represents an effort to maintain delivery of quality public services at an affordable cost to the taxpayer while maintaining a close to constant mill levy. Each year the Commissioners are faced with many increasing budget requests as well as increasing uncontrolled costs which present challenges as they work to balance the budget. The 2020 budget includes a valuation increase of $11,578,084, largely from The Overland Pass pipeline on which the tax-exempt status termed, which equates to an increase of budget authority of approximately $479,412.
The Notice of Budget Hearing that was published July 24th provides an overview of the proposed county budget. This Notice details the actual expenses for 2018, adopted expenses for 2019, and the proposed budget for 2020. The most significant number in the Notice of Budget Hearing is the estimated mill levy of 43.641 which is slightly lower than the 2018 mill levy that funded the 2019 budget. This again is a function of the tax lid, lowering the mill levy further would limit expenditures for the foreseeable future, or until the legislators modify the tax lid. The total mill levy, 43.641, generates $12,089,420 in property tax and is equivalent to $277,023 per mill.
In summary, the 2020 budget is funded by a slightly lower mill levy, which is possible due to increased valuations.
Levied Funds Planned Expenditures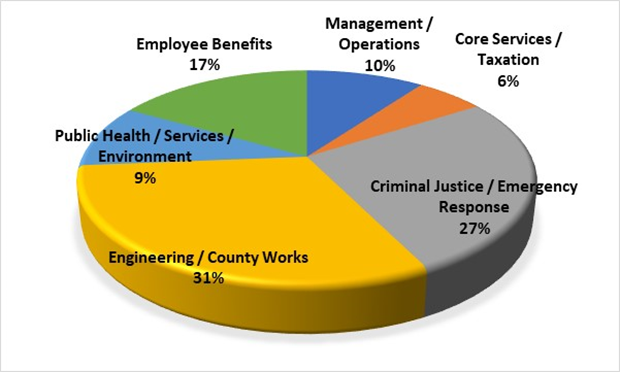 Click to see all of the
Barton County Budget Information