County Elections
Do you want to know if you are registered to vote in Barton County? Or maybe you are Already a registered voter, but want to know where you vote, or your current registration information? Voter View(click here)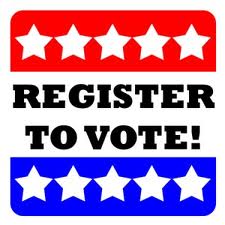 Voter Registration Card (click here)
Where can i register to vote? (click here)
RULES CONCERNING VOTER REGISTRATION APPLICATIONS
SUBMITTED WITHOUT PROOF OF CITIZENSHIP
This notice covers persons who have applied to register to vote and have not yet provided proof of
citizenship. Due to recent court rulings, if you have applied to register to vote at a Kansas Division of
Motor Vehicles office or if you have applied to register to vote using the "Federal Form" voter
registration application (as opposed to the standard 'state form') and have not yet provided proof of
citizenship, you are registered to vote unless you receive official notice stating otherwise. Your
name will appear on the poll book for your voting location and you will be given a standard ballot.
There is nothing further you need to provide unless and until you receive further notice.
If you have questions concerning your eligibility or this notice you may contact your local county
election office or the Secretary of State's office at (800) 262-8683.
Requirements for Voter Registration:
Citizen of the United States

Kansas resident

Be 18 years of age before the next statewide election

If convicted of a felony, have had civil liberties restored

Has abandoned former residence and/or name
How to register...
Please come into Barton County Clerk's office in the Court House 1400 Main Rm202 Great Bend or one of our out-reach sites (where can i register-link above)
Click the "voter registration card" (link above). Then print then sign and either: mail / hand deliver to Barton County Clerk 1400 Main Rm202 Great Bend, email (scan and attach) to

voterreg@bartoncounty.org

, or fax to 620-793-1990.
Online Voter Registration Application
To register to vote online, you must have a valid Kansas driver's license or nondriver's identification card, as you are required to use a legal signature to complete the registration process. The online registration option uses your driver's license signature to do so. If you do not have either of these Kansas identification cards, you will need to complete a voter registration card (link above).

You must re-register each time you change your name, address, otherwise the Election Office will have outdated information. To register to vote online, please visit:

https://www.kdor.org/voterregistration/
Proof of Citizenship Requirement for First-Time Registrants
Kansas law does require new registrants to provide proof of citizenship when they register to vote, which the online system will allow you to upload; however, we recommend you still send a copy of your proof of citizenship document directly to our office to assure successful submission. For a complete list of acceptable documentation, please visit: http://www.gotvoterid.com/proof-of-citizenship.html
How to make changes to your registration:
If the change you want to make is your party affiliation, we can mail to you a party affiliation change card to complete and return. Or you can visit Barton County Clerk's office in the Court House 1400 Main Rm202 Great Bend to complete this change card.
If the change you want to make is an address change, or name change, please refer to How to register above.

If the change you are making is anything else, please call our office at 620-793-1835 to determine how to change that information .
How to cancel your voter registration:
If you have moved out of Barton County or simply wish to be removed from Barton County voter rolls, click link below, and either print and mail to the Clerks office, or save and email to voterreg@bartoncounty.org.
* Remove me from the voter rolls (click here)