Current Elections
To view your voter information (click) Voter View
2017 Election Schedule:
October 17 - Last day to register to vote for the General Election.
November 7 - General Election.
GN2017 Candidates List (click)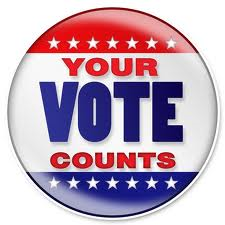 Election... November General Election
Voter Registration closes end of business day October 17. Please contact the Barton County Clerk's office for any questions related to this.
Early voting is available through the Barton County Clerk's Office, this may begin October 18. Or Advance voting by mail is available by application through the Barton County Clerk's Office. Advance ballots may start being mailed out October 18.
Ballots must to be returned to Barton County Clerk's office by 7pm on Election Day or If returning by mail, the ballot must be postmarked by Election Day or Your ballot may be returned to your polling location on Election Day.
< Please continue to check back here for future Elections >
______________________________________________
ELECTION RESULTS:
April 2016 City/Ellinwood Hospital Election Results(click)
Aug 2016 Final Including Provisionals (click)
General Election 2016 FINAL Including Provisionals(click)
Election results posted below are from the current election.
Nov 2017 Official Final including Provisionals(click)
______________________________________________
Political Maps:
Commission District Map (click)
Commission District Great Bend Map (click)
Great Bend Precinct / Ward Map (click)
School District Map (click)
______________________________________________
Election Hours:
Regular business hours: 8am - 5pm Monday - Friday (in room 202 of Court House)
Day of Election: 7am - 7pm (at your polling place)