Veterans' Memorial
"A nation that forgets its defenders will itself be forgotten.



This is but a small tribute to all the veterans whose names are forever etched on these tablets.



We are eternally grateful for their service to this great nation.





All gave some, some gave all."
For many years the Barton County Commissioners had a dream to establish a memorial to honor Barton County Veterans at the Golden Belt Memorial Park. Thanks to generous donations by Barton County residents who recognize and appreciate veteran's service, that dream has become a reality.
A center monument with military insignias was dedicated on May 25, 2014. At that time flag poles for the American flag and for the military service flags were installed.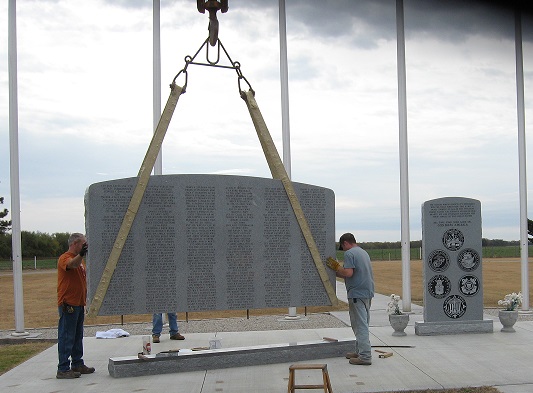 The Barton County Commissioners and the Memorial Parks Advisory Committee members dedicated the first Veteran's Memorial Stone on Veteran's Day, November 11 2015. The Memorial Stone contains the names of 377 veterans. The second Memorial Stone, containing the names of 389 Barton County veterans was dedicated on Veteran's Day, November 11, 2016.
The County will place additional stones at the Veteran's Memorial as long as there is interest by veteran's and their families. The County is currently accepting names for the third Memorial Stone. The third stone will be dedicated once enough names have been received.
Download the Engraving Application and fill in the information about the veteran that is to be engraved on the monument. The fee is $45 for one line of 21 characters, maximum of two lines for a total of $90. Return the application with the appropriate fee to the Barton County Administration Office, 1400 Main St. Rm 107, Great Bend, KS 67530. For more information or to have an application mailed to you call 620-793-1800.
If you wish to contribute to the Veterans' Memorial download the Donation Form and return it to the Barton County Administration Office.