Current Elections
Candidates: (Check here - closer to an election.)
__________________________________________________________________________________
NOTICE OF POST-ELECTION AUDIT
Kansas election law requires a post-election audit be conducted after an election and prior to the meeting of the County Board of Canvassers. The county election officer is required to conduct a manual audit or tally of each vote cast in 1% of all precincts, with a minimum of one precinct. The precinct(s) shall be randomly selected and the selection shall take place after the election. For Barton County, we will audit no less than two races and two precincts for every primary and general election.
**Audit time will be at 9am, on (Date, yr.)
*The random drawing for the races/precincts will be at 2pm on (Date, yr.)*
____________________________________________________________________________________
Barton County Voting Locations GN2020(click)
Election... ?(Date, yr.)
Voter Registration closes end of business day (Date, yr.). Please contact the Barton County Clerk's office for any questions related to this.
Early voting is available through the Barton County Clerk's Office, this MAY begin (Date, yr.). Early voting ends at noon on Monday the day before the election. Or Advance voting by mail is available by application through the Barton County Clerk's Office. Advance ballots may start being mailed out (Date, yr.).
Ballots must to be returned to Barton County Clerk's office by 7pm on Election Day or If returning by mail, the ballot must be postmarked by Election Day or Your ballot may be returned to your polling location on Election Day, (Date, yr.).
*Polling Locations are open 7am to 7pm on Election day only.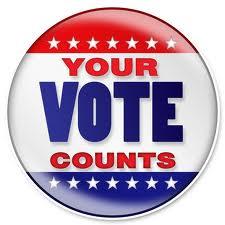 Election Hours:
Regular business hours: 8am - 5pm Monday - Friday (in room 202 of Court House)
Day of Election: 7am - 7pm (at your polling place)